Lagoon View Resort wants to help you customize your fishing vacation by making it the perfect mix of DIY and guided or blue water fishing. In most instances, we can accommodate any combination of these options. Have a dream vacation in mind? Let us help you create it!
Fishing licenses are purchased when you arrive on the island. The cost is $50 for the first week and $25 for each additional. As with everything on the island, bring cash. There is no place to purchase any fishing items of any kind on the island. Bring everything you will need and then some!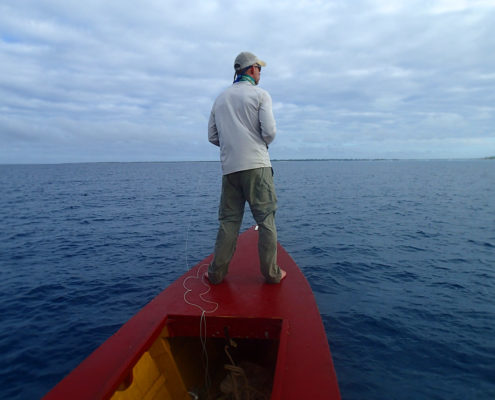 Christmas Island is legendary for it's Bonefish. While 2-4 lbs. is the average, double-digit Bonefish commonly cruise these warm waters. While many of these fish roam the hard packed sand bottom, you will find some in areas with coral. Flats boots or booties are a must.
Where the flats begin to deepen you will find Triggerfish, tail high in the air searching for crustaceans. These fish seem to have heightened senses so carefully present a Bonefish fly or a small crab without spooking them. Hold on tight as these fish will run!
Just off the edge of the flats cruise the Trevally. A second rigged rod is a must to get a shot at these apex predators. When in the mood to eat, they will devour the fly and the heartiest drag will barely slow them.
You may encounter several other reef fish as you work the flats, including Grouper, Snapper and Parrotfish, to name a few.
No trip is complete without some time spent in the blue water. Here fisherman can hunt for several different species of Tuna, Wahoo, Trevally, Sailfish (although rare) and Milkfish.  With the exception of the Milkfish, these fish will attack most anything offered, whether on the surface or below. Trolling is most effective until you find a school, then you may have a chance to cast to boiling fish. At the end of the day, nothing tastes better than a tuna you caught only a few hours ago!
The Milkfish are another story. These algae eaters are ridiculously strong, but not easy to entice to eat. It's not uncommon to be surrounded by thousands of these fish sipping at the surface, some as big as 50 lbs. Drifting with the schools gives you the best shot at these acrobatic fish.
Ask about a day trip to Huff Dam. This area is behind a locked gate and is a great place to hunt for Bonefish and Trevally. It takes a few days to arrange this adventure as a game warden will accompany you. There is a small access fee to get into this area, but it is well worth it! Let us know early in your trip if you'd like to explore this unique area.
Christmas Island is a great place for both beginning and advanced anglers. Beginners will have shot after shot at cruising fish, honing their skills in optimum conditions. Some beginners may want a guide to help make the spotting easier. Others may be happy learning at their own pace or having a buddy help. Lagoon View offers both options!
Volumes have been written on what flies to use on the island. We have found that smaller, sparsely tied Christmas Island specials are the most effective. Let us know if you need some specific suggestions.
In sandy areas, 10 lb. fluorocarbon tippet works great. If fishing near coral, bump it up to 12 or 15 lb. Leader lengths should be a minimum of 12′.
For Bonefish, Triggerfish, and Blue and Golden Trevally an 8 weight rod is the best choice. Giant Trevally require a minimum of a 10 weight. If targeting Trevally, bring extra fly lines. These fish will instantly take you deep into your backing and fly lines are lost on the coral. For blue water, use a 12 weight rod if you have it. A 15 lb. Tuna pulls like a truck. You will be glad you have the extra horsepower the heavy rod offers!