Boasting endless flats, countless bonefish and little fishing pressure, Christmas Island offers both the do-it-yourself (DIY) angler and the guided fisherman the ultimate skinny water experience. Add Triggerfish, 3 species of Trevally (Giant, Blue and Golden), Tuna, Wahoo and the latest fly rod trophy, Milkfish and you have the perfect fly fishing destination!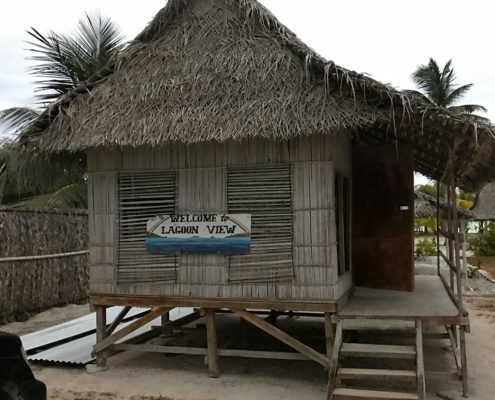 Fly fisherman the world over have come to know Christmas Island as a true paradise. What isn't as well known is the majority of these white, solid-bottom flats are easily accessed by vehicle and begging to be explored by DIY fisherman. Nothing compares to the thrill of stalking and setting the hook on a fish you found… without a guide looking over your shoulder.
Lagoon View Resort recognizes the excitement of the guide-free bonefish and is the only Christmas Island lodge supporting both guided and DIY angler. We can help customize the perfect fishing vacation by offering reasonably priced lodging (including meals and laundry), rental vehicles, and boats/guides when desired.
Lagoon View Resort is owned and operated by a local Kiritimati family. Timei and Tima Kaitaua, and their daughters, work hard to ensure your every need is met.
Skinny Waters, LLC is the exclusive booking agent for Lagoon View Resort. Ready to start planning? Have questions… contact us today!